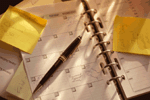 Did you know that back in the 80's a shift work pattern called the Ottawa Shift System became world famous?  I first came across the Ottawa Shift System when I was doing grad school and writing a paper on the effects of non-standard work hours on health and well-being.  I found one short reference to the Ottawa Shift System, but since it was off-topic, I didn't follow up to find out more about the system. I recently pulled out a journal article [1] written for the FBI Law Enforcement Bulletin from my every increasing "reading pile". It was all about the Ottawa Shift System and it's benefits for police officers all the way over in the United Kingdom.
From what I have read so far, it seems the Ottawa Shift System improved officer morale, welfare and social life and decreased the fatigue normally associated with working fast turnover shifts.  There was also a trend in less sick leave and better health when officers worked the Ottawa Shift System as well as more thorough and rapid investigations [1].
I am still not sure of the exact pattern of shifts used in this system, but it looks like you'd be working 10 hour day and evening shifts and 8.5 hour night shifts.  I am going to do some more digging to find out what happened to the Ottawa Shift System.  I'll keep you posted.
Reference
Simpson, M. & Richbell, S. (2000). British policing and the Ottawa Shift System: Easing the stress of rotating shifts.  Federal Bureau of Investigation Law Enforcement Bulletin, 69, 19-26.