Let me ask you, do you plan on getting sick this winter? If you go to the emergency department or critical care unit, make sure you ask the doctor how long they have been awake. Most interns work a lot of extended duration work shifts. These are the shifts where they work for more than 24 consecutive hours. If your intern has worked five or more of these extended duration shifts, he or she will be more likely than interns who have not worked an extended duration shift to fall asleep during surgery, while talking to you, while examining you, during informational rounds where they are supposed to be learning and updating other doctors on patient progress, and during lectures and seminars[1].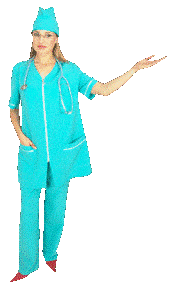 If your intern falls asleep while examining you it's easy to nudge them back to wakefulness. But what if they make a mistake with your diagnosis or treatment as a result of the fatigue from being awake for so long? How would you know if they have made a mistake? Chances are you won't know if they were wrong and chances are good that they could be wrong. If your critical care intern has worked one or more extended work hour shifts in the past month, they are more likely than interns who have not worked an extended duration shift to make a significant medical error[1].
What do you do if your critical care intern says they have worked extended hours?
Ask for a second opinion!
Reference
[1]  Barger, L., Ayas, N., Cade, B., Cronin, J., Rosner, B., Speizer, F., & Czeisler, C. (2006).  Impact of extended-duration shifts on medical errors, adverse events and attentional failures.  PLoS Medicine, 3(12), e487. doi:10.1371/journal.pmed.0030487.