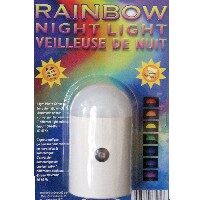 Meet the Sleep Coach's colourful companion to restful sleeping for the entire family! Recommended for helping children adjust to sleeping alone; the Rainbow Coloured Night-Light turns on automatically at night and saves you energy by switching off during the day. Unique, yet simple in its design; the Rainbow Coloured Night-Light makes an attractive addition to bedrooms, guest rooms and hallways throughout your home.
Features:
Cycles through the colours of the rainbow.

Children will feel more comfortable sleeping alone.
Helps young children sleep alone and all through the night.
Great for guest rooms and hallways.
Energy efficient.
Sleek design.
Automatically cycles through colours of the rainbow.
Fits regular electrical outlets throughout the home.
Automated sensor switches night-light off during daytime and on during nighttime.
THE MOST ORIGINAL NIGHT LIGHT WE COULD FIND.