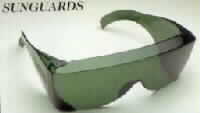 Sunguards are high quality UV protection to wear with or without regular prescription eyewear. These shatter resistant polycarbonate Sunguards can fit over your glasses to protect your eyes from sunlight; and can also be worn as regular sunglasses. If you have difficulty sleeping during the day; a pair of Sunguards can help to block out sunlight and keep your body on a nighttime schedule. Use them whenever you are working nights and need to be outside during the day. You can also wear them on your way home from your night shift to prepare you for a more restful sleep.
Features:
Block out the sun and keep your body in tune with working nights.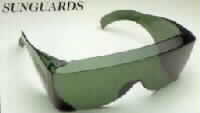 Unique side-shield design.
Shatter resistant.
Strictest UV requirements.
Smoke coloured hardcoated lense.
Sunguards effectively block out 100% of ultra-violet rays to 400nm.
The unique shield design blocks up to 40% more ulta-violet light than conventional sunglasses.
Can be worn over prescription eyewear or as regular sunglasses.
Specifications:
WHEN TO USE SUNGUARDS:
During the trip home from your night-shift.
On unavoidable daytime errands.
The whole weekend when you are not working but still on the night-shift.
GREAT FOR DRIVING AND FOR THE BEACH – PROTECT YOUR EYES!